AN ACTUARY'S VIEW OF HEALTH CARE REFORM ESTIMATES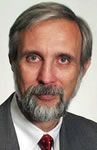 John Bertko, F.S.A., M.A.A.A., former Vice President and Chief Actuary, Humana Inc.
Friday February 19, 2010
12:30-1:30 p.m.
Crawford Hall - Room 9
Inamori Center
Case Western Reserve University
Dear Colleagues,

The politics of health care reform involves ideologies, interests -- and very large integers.

President Obama and Congressional Democrats appear committed to keeping reform on the agenda. For the moment they're puzzling over arcane aspects of congressional procedure. Once they decide how to proceed they will be back to the numbers. How will any proposal affect the budget deficit? Will it make insurance more expensive or less expensive, or more for some people and less for others?

All options have to be "scored." That makes estimates by the Congressional Budget Office extremely important -- and controversial. How are estimates made? Are they biased, are they at all reliable? Are any of the critics, such as the Obama administration economists who claim the proposals will do a better job of controlling costs than CBO says, justified?

We have an opportunity on Friday to discuss these questions with an extremely expert visitor to our campus who is also one of our alumni. John Bertko not only has been deeply involved in health care reform analyses with think tanks and as an adviser to CBO but, before he retired from Humana, had to do estimates on which a very large insurer bet its money. He knows the numbers and the stakes. I look forward to hosting him and to our discussion!

As usual, we will gather in Room 9 of the Inamori International Center for Ethics and Excellence, on the lower level of Crawford Hall, for free cookies, beverages, and brown bag lunch.

Best regards,
Joe White

There will be no parking available in the visitors parking lot next to Crawford Hall this week due to a CWRU Board of Trustees meeting.
---
About Our Guest
John M. Bertko, F.S.A., M.A.A.A., serves as adjunct staff at the RAND Corporation and as a visiting scholar at the Brookings Institution. He recently retired as the chief actuary for Humana Inc., where he managed the corporate actuarial group and coordinated the work of actuaries on Medicare Advantage, Part D, and consumer-directed health care products. Mr. Bertko has extensive experience with risk adjustment and has served in several public policy advisory roles, including design of prescription drug programs. He is also a member of the panel of health advisors of the Congressional Budget Office. He served the American Academy of Actuaries as a board member from 1994 to 1996 and as vice president for the health practice area from 1995 to 1996. He was a member of the Actuarial Board for Counseling and Discipline from 1996 through 2002. Mr. Bertko is a fellow of the Society of Actuaries and a member of the American Academy of Actuaries. He has a B.S. in mathematics from Case Western Reserve University.
---
Friday Lunch Upcoming Topics and Speakers:
February 26: Is Deindustrialization Bad for America? With Susan Helper, AT&T Professor and Chair, Department of Economics; David Clingingsmith, Assistant Professor of Economics; and Joe White.

March 5: Ohio's State Budget: Now What? With Zach Schiller, Research Director, Policy Matters Ohio.

March 12: Spring Break, No Discussion

March 19: Science in the Courts. With Wendy Wagner, Joe A. Worsham Centennial Professor, University of Texas School of Law.

March 26: Observations in Beirut. With Bill Marling, Professor of English.

April 2: Abortion, Health Care Reform, and the Moral Dimensions of Political Compromise. With Susan Dwyer, Associate Professor of Philosophy, University of Maryland.

April 9: Business and Sustainability. With Roger Saillant, Ph.D. Executive Director, Fowler Center for Sustainable Values, Weatherhead School of Business.

April 16: : Does Environmental Responsibility Mean the Elderly Should Accept "Natural" Deaths? With Felicia Nimue Ackerman, Professor of Philosophy, Brown University.

April 23: What the Health Care Reform Law Will Do; or, Why Health Care Reform Failed; or, Health Care Reform: What Next? or, All of the Above. With Joe White, Luxenberg Family Professor of Public Policy
The Friday Lunch discussions are held on the lower (ground) level of Crawford Hall. Visitors with mobility issues may find it easiest to take advantage of special arrangements we have made. On most Fridays, a few parking spaces in the V.I.P. lot in between Crawford Hall and Amasa Stone Chapel are held for participants in the lunch discussion.
Visitors then can avoid walking up the hill to the first floor of Crawford by entering the building on the ground level, through the garage area under the building. The further door on the left in that garage will be left unlocked during the period before the Friday lunch. On occasion, parking will be unavailable because of other university events.
For more information about these and other Center for Policy Studies programs, please see
http://policy.case.edu
.