Rip This Off! The Ethics of Downloading Intellectual Property from the Internet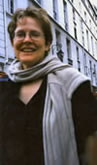 Martha Woodmansee, Ph.D., J.D. - Professor of English and Law at Case Western Reserve University










Raymond Ku, J.D. - Professor of Law, Associate Dean for Academic Affairs, and Co-Director of Center for Law, Technology and the Arts at Case Western Reserve University School of Law








Shannon French, Ph.D. - Director of the Inamori Center for Ethics and Excellence and Professor of Philosophy at Case Western Reserve University





Friday February 11, 2011
12:30-1:30 p.m.
Crawford Hall - Room 9
Inamori Center
Case Western Reserve University

Intellectual Property has been defined as referring to creations of the mind: inventions, literary and artistic works, and symbols, names, and images used
in commerce. Just because something is on the Internet for anyone to find doesn't mean it's in the public domain. In other words, there are certain ethics that should be observed when it comes to downloading intellectual property. Please join us this Friday for a special Inamori Center for Ethics and Excellence panel discussion on the ethics of downloading intellectual property on the internet. Lunch will be provided. This event is sponsored by Dell and the Inamori Center for Ethics and Excellence.

There will be no parking available in the visitors parking lot next to Crawford Hall on Friday February 25, 2011. On other Fridays a few spaces are available for visitors with mobility concerns. Parking options for visitors from beyond campus include the Severance Hall parking garage on East Boulevard, the small lot on Adelbert Road just uphill from Euclid Ave, and other lots on campus.

More About Our Guests....

Martha Woodmansee received her MA and PhD in German and English at Stanford with a specialization in literary theory. She has been a member of the English faculty at CWRU since 1986, and the Law faculty since 2002. She has also taught at Columbia, Harvard, and the University of Pittsburgh. Since 1990 she has been Director of the Society for Critical Exchange, a national organization devoted to collaborative interdisciplinary research in theory.

Professor Woodmansee has published widely at the intersection of aesthetics, economics, and the law. Her books include The Author, Art, and the Market (Columbia UP 1994); a collection of essays co-edited with Peter Jaszi, The Construction of Authorship: Textual Appropriation in Law and Literature (Duke UP 1994); and the collection,The New Economic Criticism: Studies at the Intersection of Literature and Economics (Routledge 1999). With Mario Biagioli and Peter Jaszi, she has edited Making and Unmaking Intellectual Property: Creative Production in Legal and Cultural Perspective, forthcoming this April from the University of Chicago Press. A monograph in progress, Commerce in Ideas , concerns book piracy and the emergence of international copyright during the nineteenth century.

She has held fellowships from the American Council of Learned Societies, the Andrew W. Mellon Foundation, the Guggenheim Foundation, the National Endowment for the Humanities, the National Humanities Center, and the Ford, Fulbright, and Rockefeller Foundations.

Raymond Ku is professor of law at Case Western Reserve University School of Law and Co-Director of Case's Center for Law, Technology and the Art. He received his J.D., cum laude, from New York University School of Law where he was a Leonard Boudin First Amendment Fellow in the Arthur Garfield Hays Civil Liberties Program, and his A.B. with Honors from Brown University where he was the recipient of the Philo Sherman Bennet Prize for the best political science thesis discussing the principles of free government. Professor Ku clerked for the Honorable Timothy K. Lewis, United States Court of Appeals for the Third Circuit. He then practiced constitutional, intellectual property, and antitrust law with Gibson, Dunn & Crutcher, LLP, and First Amendment/media and intellectual property law with Levine Pierson Sullivan & Koch, L.L.P., both in Washington, D.C. He has taught at Cornell Law School, Seton Hall University School of Law, Thomas Jefferson School of Law, and St. Thomas University School of Law.

An internationally recognized scholar, Professor Ku writes on legal issues impacting individual liberty, creativity, and technology. His articles appear in the law reviews and journals of Berkeley, Chicago, Fordham, Georgetown, Minnesota, Stanford, Tulane, Vanderbilt, and Wisconsin among others, and he is the lead author of the first casebook devoted exclusively to the study of cyberspace law. Professor Ku was the 2009 recipient of the Case Western Reserve University Law Alumni Association's Distinguished Teacher Award, and voted Professor of the Year by the graduating class of 2009.

Shannon E. French, Ph.D., began her tenure as director of the Inamori International Center for Ethics and Excellence and Inamori Professor of Ethics at Case Western Reserve University on September 8, 2008.

Prior to leading the Inamori Center, French was the associate chair of the Department of Leadership, Ethics and Law at the United States Naval Academy, where she had been a member of the civilian faculty since 1997.

French's research and scholarly interests are primarily in the area of military ethics, but also include leadership ethics, professional ethics, moral psychology, biomedical and environmental ethics. She has contributed articles and chapters on present-day conduct of war issues such as defining terrorism, the use of torture, warrior transitions and the moral responsibility of leaders not to erode values that provide the foundation for restraint and limit the awful scope of war. Her 2003 book, The Code of the Warrior: Exploring Warrior Values, Past and Present, features a forward by Senator John McCain.

Currently working on her second book, French has published numerous other works and is an associate editor for the Journal of Military Ethics and the Encyclopedia of Global Justice.

French has presented papers at prestigious international conferences around the globe. In 2004, she helped design and present four-day training seminars on moral reasoning and ethical advisement for the U.S. Navy's Chaplain Corps at Navy and Marine Corps bases around the United States and in Italy and Japan. The success of that program resulted in the development and presentation of a similar series of seminars on the subject of character development in 2006.

French received her bachelor's degree in philosophy, classical studies and history from Trinity University in San Antonio in 1990. She was recognized in 1990 as one of the 20 "Best and Brightest College Students in America" by USA TODAY. She went on to earn her Ph.D. in philosophy from Brown University before joining the Naval Academy faculty.

Friday Lunch Upcoming Topics and Speakers:

February 18: Iwan Alexander, Faculty Director, Great Lakes Energy Institute: News from the Great Lakes Energy Institute

February 25: Gene Matthews, Director of Facilities Services, CWRU: "Case Recycles," and How That Works.

March 4: Shirley M. Moore, Professor and Associate Dean for Research, Frances Payne Bolton School of Nursing: Even After a Heart Attack - The Challenge of Encouraging Healthy Behavior

March 11: No Session, Spring Break

March 18: Special Inamori Center Event, Howard Ernst, Associate Professor of Political Science at the United States Naval Academy, Dirty Water: A Critical Look at Regulatory, Cooperative, and Market-based Solutions to the Nation's Growing Water Pollution Problem.

March 25: Mark Votruba, Associate Professor of Economics: The Social Effects of Economic Dislocation

April 1: Jacqueline Lipton, Professor of Law and Co-Director, Center for Law, Technology and the Arts: Privacy and Online Social Networks.

April 8: Special Inamori Center Event.

April 15: Mark Naymik, Reporter, Cleveland Plain Dealer: Ohio's Budget Battle

April 22: Jon Groetzinger, Visiting Professor of Law and Director, China Legal Programs: Developing the Legal Profession in China.

The Friday Lunch discussions are held on the lower (ground) level of Crawford Hall. Visitors with mobility issues may find it easiest to take advantage of special arrangements we have made. On most Fridays, a few parking spaces in the V.I.P. lot in between Crawford Hall and Amasa Stone Chapel are held for participants in the lunch discussion. Overflow parking is also available in the Severance Hall parking garage on East Boulevard.

Visitors then can avoid walking up the hill to the first floor of Crawford by entering the building on the ground level, through the garage area under the building. The further door on the left in that garage will be left unlocked during the period before the Friday lunch. On occasion, parking will be unavailable because of other university events.

For more information about these and other Center for Policy Studies programs, please see http://policy.case.edu.
February 7, 2011
Upcoming Events
The Arab Uprisings of 2011
February 9, 2011, 4:30 p.m., Nord Hall, Room 400, Case Western Reserve University, Cleveland, Ohio. Sponsored by the Department of Political Science at Case Western Reserve University and The Northeast Ohio University Consortium for Middle East Studies.

Please join us as four distinguished Middle East and North African scholars discuss the current political upheaval in the Arab World. Joshua Stacher, Ph.D., is an assistant professor of political science at Kent State University and is a specialist in middle eastern politics in Egypt and Syria. Neda Zahwari, Ph.D., is a an assistant professor of political science at Cleveland State University. Her research focuses on the economies and politics of the Middle East and North Africa. Zeinab Abdul-Majd, Ph.D., is an assistant professor of history at Oberlin College. Her research concentrates on the modern economic and political history of the modern Middle East and North Africa. Peter W. Moore, Ph.D., is an associate professor of political science at Case Western Reserve University. His work emphasizes the economic development and state-society relations in the Middle East and Africa.
---
Awash in Debt: State Liabilities and the Future of the Chinese Economy
Professor Victor Shih, Ph.D., Associate Professor of Political Science at Northwestern University, February 17, 2011, 4:30-6:00 p.m., Mandel Center Building, Room 115, 11402 Bellflower Road, Cleveland, OH. This program is made possible by the generosity of Ms. Eloise Briskin and is sponsored by the Case Western Reserve University Center for Policy Studies.

Although China has some of the world's lowest level of foreign debt and official government debt, the Chinese government and state owned banks and enterprises actually owe an enormous amount of debt to domestic financial institutions and households. This presentation first catalogs the different segments of debt owed by the Chinese government and related entities and the claimants on this debt. It then discusses some implications for future public policies in China.

Victor Shih is an associate professor of political science at Northwestern University. He is interested in political economy in developing countries broadly, and how politics affect economic outcomes in China specifically. His book, Factions and Finance in China: Elite Conflict and Inflation (NY: Cambridge University Press, 2008) explores the timely question of how politics affects the large volume of underperforming loans on the books of Chinese banks. His on-going projects investigate the performance of Chinese banks, signaling in elite politics, and elite selection in China. Victor Shih received his Ph.D. from Harvard University.
---
Collective Memory: How the Present Shapes the Past Told through a Philadelphia Story: George Washington and Slavery
Marc Howard Ross, Ph.D., William Rand Kenan, Jr. Professor of Political Science at Bryn Mawr College, March 2, 2011, 4:30-5:30 p.m., Moot Courtroom (A59), Case Western Reserve University School of Law, 11075 East Blvd., Cleveland, Ohio, Sponsored by the Center for the Interdisciplinary Study of Conflict and Dispute Resolution, Case Western Reserve School of Law.

Collective memory is increasingly discussed as an important feature of large group behavior. Prof. Ross will outline conceptual tools for the analysis of collective memory and how present needs shape what is told and retained about the past: narratives, symbols and rituals, and symbolic landscapes as well as an empirically useful way to understand collective memory and its role in ethnic and racial conflict and conflict mitigation. To illustrate the approach, he will consider the case of race in the United States and especially the phenomenon of slavery in both the north and the south. He will emphasize the role of selective forgetting in the north and how only in recent years has the story of slavery and segregation there been publicly considered.

The specific conflict he will describe and analyze has gone on for the past nine years in Philadelphia concerning George Washington and the nine enslaved Africans who lived in the President's House in the city from 1790-1797. The house that was torn down in the 1830's was a block away from Independence Hall—where the national narrative of freedom and liberty is celebrated, and the former slave quarters is almost directly under the present entrance to the Liberty Bell Pavilion where the bell is housed. Unlike the simple story that was told in Independence Hall National Park, we should ask how can this complex braided history of freedom and slavery that not only is found on this site but throughout the country in its first 77 years be told together?
S

M

T

W

T

F

S

1

2

3

4

5

6

7

8

9

10

12

13

14

15

16

19

20

21

22

23

24

26

27

28
About the Friday Lunch Newsletter
If you would like to not receive this weekly e-mail or if you would like to submit items for inclusion please send a notice to padg@case.edu.