Intellectual Property and the Commerce in Ideas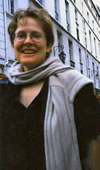 Martha Woodmansee, Ph.D., J.D. - Professor of English and Law at Case Western Reserve University






Friday January 28, 2011
12:30-1:30 p.m.
Crawford Hall - Room 9
Inamori Center
Case Western Reserve University

The concept of "intellectual property":
is at the heart of the modern research university, as professors are evaluated by their personal "product";
is central to modern disputes about international trade;
is at the heart of the business of creativity;
and is a legal concept addressed directly in the U.S. constitution.

In short, "authorship" and its rights are among the modern world's most powerful ideas. But they are subject to many arguments and complications, ranging from who is the "author" of a group project to what rights should be associated with authorship. What are the stakes? Who wins, who loses? Join us as Professor Woodmansee discusses legal, cultural and economic perspectives on this core aspect of our society.

On Fridays a few spaces are available for visitors with mobility concerns. Parking options for visitors from beyond campus include the Severance Hall parking garage on East Boulevard, the small lot on Adelbert Road just uphill from Euclid Ave, and other lots on campus.

More About Our Guest....

Martha Woodmansee received her MA and PhD in German and English at Stanford with a specialization in literary theory. She has been a member of the English faculty at CWRU since 1986, and the Law faculty since 2002. She has also taught at Columbia, Harvard, and the University of Pittsburgh. Since 1990 she has been Director of the Society for Critical Exchange, a national organization devoted to collaborative interdisciplinary research in theory.

Professor Woodmansee has published widely at the intersection of aesthetics, economics, and the law. Her books include The Author, Art, and the Market (Columbia UP 1994); a collection of essays co-edited with Peter Jaszi, The Construction of Authorship: Textual Appropriation in Law and Literature (Duke UP 1994); and the collection,The New Economic Criticism: Studies at the Intersection of Literature and Economics (Routledge 1999). With Mario Biagioli and Peter Jaszi, she has edited Making and Unmaking Intellectual Property: Creative Production in Legal and Cultural Perspective, forthcoming this April from the University of Chicago Press. A monograph in progress, Commerce in Ideas , concerns book piracy and the emergence of international copyright during the nineteenth century.

She has held fellowships from the American Council of Learned Societies, the Andrew W. Mellon Foundation, the Guggenheim Foundation, the National Endowment for the Humanities, the National Humanities Center, and the Ford, Fulbright, and Rockefeller Foundations.

As Director of the Society for Critical Exchange she has been instrumental in fostering scholarly research across traditional disciplinary boundaries, especially those dividing literary, economic, and legal studies. These initiatives have resulted in burgeoning new research focuses in "authorship studies" and "new economic criticism," and they have drawn in lawyers and economists to grapple with the historical and theoretical roots of issues of such pressing public concern as the legitimacy and limits of intellectual property.

At CWRU Professor Woodmansee is presently devoting her energies to developing the Department's PhD concentration in Writing History and Theory and to establishing a university-wide Center for the Study of Writing . She teaches a range of courses, from 18th and 19th century British and European literature and culture, to history of the book, critical theory, and law and literature. Recent law and literature offerings include a University Seminar on intellectual property pirates and privateers, an advanced undergraduate collaboratory on rights in traditional culture and bioknowledge , and a graduate seminar devoted to intellectual property and the construction of authorship . She also coordinates (and intermittently directs) the Arts & Sciences Dissertation Seminar, which she developed with support from the Andrew W. Mellon Foundation in 1996.

Friday Lunch Upcoming Topics and Speakers:

February 4: Marixa Lasso, Associate Professor of History: Bicentennials in Latin America: What the History of Latin America's First Constitutions Can Teach Obama's America.

February 11: Special Inamori Center Event

February 18: Iwan Alexander, Faculty Director, Great Lakes Energy Institute: News from the Great Lakes Energy Institute

February 25: Gene Matthews, Director of Facilities Services, CWRU: "Case Recycles," and How That Works.

March 4: Shirley M. Moore, Professor and Associate Dean for Research, Frances Payne Bolton School of Nursing: Even After a Heart Attack - The Challenge of Encouraging Healthy Behavior

March 11: No Session, Spring Break

March 18: Special Inamori Center Event

March 25: Mark Votruba, Associate Professor of Economics: The Social Effects of Economic Dislocation

April 1: Jacqueline Lipton, Professor of Law and Co-Director, Center for Law, Technology and the Arts: Privacy and Online Social Networks.

April 8: Special Inamori Center Event

April 15: Mark Naymik, Reporter, Cleveland Plain Dealer: Ohio's Budget Battle

April 22: Jon Groetzinger, Visiting Professor of Law and Director, China Legal Programs: Developing the Legal Profession in China.

The Friday Lunch discussions are held on the lower (ground) level of Crawford Hall. Visitors with mobility issues may find it easiest to take advantage of special arrangements we have made. On most Fridays, a few parking spaces in the V.I.P. lot in between Crawford Hall and Amasa Stone Chapel are held for participants in the lunch discussion. Overflow parking is also available in the Severance Hall parking garage on East Boulevard.

Visitors then can avoid walking up the hill to the first floor of Crawford by entering the building on the ground level, through the garage area under the building. The further door on the left in that garage will be left unlocked during the period before the Friday lunch. On occasion, parking will be unavailable because of other university events.

For more information about these and other Center for Policy Studies programs, please see http://policy.case.edu.
January 24, 2011
Upcoming Events
Multiculturalism & Integration: Germany Debates
January 27, 2011, 4:00 p.m., Baker-Nord Room, Clark Hall, Room 206, 11130 Bellflower Road, Cleveland, Ohio, Sponsored by the Max Kade Center German Studies, Case Western Reserve University. Parking: Visitor Central Garage, located below Severance Hall, entrance off East Blvd. Metered parking available on Bellflower Road.

Since the release on August 30, 2010 of the book by Thilo Sarrazin, Deutschland schafft sich ab. Wie wir unser Land aufs Spiel setzen (Deutsche Verlags Anstalt) Germany Does Away with Itself: How We Are Putting our Country at Risk), which argues that Muslims are unassimilable in Germany, a lively and loud debate has filled German opinion pages and airwaves. Chancellor Angela Merkel only compounded matters when in her speech to the youth wing of her Christian Democratic Union CDU), she asserted that Germany's postwar efforts to build a multicultural society have "utterly failed."

To help the Case Western Reserve and Cleveland communities understand better the stakes of these seemingly distant debates, the Max Kade Center for German Studies of the College of Arts & Sciences presents two leading scholars of the subject, Prof. Marc Howard of the Department of Government at Georgetown University, and Prof. Yasemin Yildiz of the Department of German at the University of Illinois.

Yasemin Yildiz is Assistant Professor of German at the University of Illinois. She specializes in 20th and 21st century German literature and culture with research interests in literary multilingualism, minority discourses (especially Turkish-German and German-Jewish), transnational studies, and gender studies. Her book The Postmonolingual Condition: Writing beyond the Mother Tongue is forthcoming from Fordham University Press. Marc Morjé Howard is Professor in the Department of Government at Georgetown University. His research and teaching interests address a variety of topics related to democracy and democratization, including civil society, immigration and citizenship, hybrid regimes, rightwing extremism, and public opinion.
---
Sleeping With Uncle Sam: Federally Funded Sex Education and the American Public
Alexandra Lord, Ph.D., National Park Service, Handerson Medical History Lecture, January 27, 2011, 6:00 p.m., Allen Memorial Medical Library, RSVP Required, RSVP to jennifer.nieves@case.edu or call 216-368-3648.

Sex education. For most Americans, these two simple words conjure up diverse images: the gym, the inept health teacher, the snickers, the embarrassment, and, most importantly, the confusion. A premier rite of passage for American pre-teens and teenagers, the obligatory class or classes on sex education have been a central component of American culture for decades.

Since launching its first sex education programs during World War I, the U.S. Public Health Service has dominated American sex education. Alexandra Lord, the author of Condom Nation: The U.S. Government's Sex Education Campaign from World War I to the Internet (Johns Hopkins University Press, 2010), will discuss how public officials have struggled, throughout the twentieth-century, to create sex education programs that balance both cultural and public health concerns. In doing so, she will explore how and why sex education has become such an explosive topic in America today.

Alexandra Lord (PhD, University of Wisconsin) taught medical history and served as historian of the United States Public Health Service through 2007. In January 2008, she became the Branch Chief of the National Historic Landmarks Program, and serves on the Board of the National Council on Public History. Dr. Lord has published on topics ranging from early medical theories about menstruation to the history of biowarfare. And she has spoken on medical history and preservation issues at places ranging from Ellis Island to the National Library of Medicine. Her latest book, Condom Nation: The United States' Sex Education Campaign from World War I to the Age of the Internet (Johns Hopkins, 2010) won awards from the British Medical Association as the best popular book on medicine and as the best book furthering public understanding of medicine and science.
S

M

T

W

T

F

S

1

2

3

4

5

6

7

8

9

10

11

12

13

14

15

16

17

18

19

20

21

22

23

24

25

26

27

29

30

31
About the Friday Lunch Newsletter
If you would like to not receive this weekly e-mail or if you would like to submit items for inclusion please send a notice to padg@case.edu.